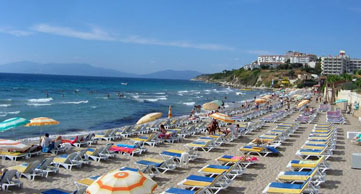 AQUALAND AQUA FANTASY TOUR
Kusadasi is home for two of the most impressive water parks in the world, Adaland and Aqua Fantasy.Crossed by numerous slides and pools, Adaland is designed for allages and is the ideal combination of sun bathing and unlimited fun.The park offers the possibility to do rafting, and also in the same complex there is a dolphin arium. Located one kilometer away from Adal and, Aqua Fantasy is mainly addressed to families with children to whom it provides various possibilities for fun in the heat of the sun and in the coolwater.
BOAT TRIP
For those passionate about sun, water, music and entertainment, the boat trip is the perfect choice. The program includes navigating on the sea, a tour of the beautiful shore of the resort, swimmings tops in the seaand in small bays.
EPHESUS TOUR
Take a step back in history by visiting the ancient city of Ephesus. Excapital of Asia Minorand harbor of Aegean Sea, Ephesus is today one of the best preserved ancient cities of Turkey. The highlights of Ephesusare The Celsius Library, the third in the ancient world, the Theatre with a capacity of 24.000 seats, and the Fontaine of the famous Emperor Trajan.
The remains of Artemis Temple, one of the seven wonders of the ancient world area lsolocated near the ancient city of Ephesus.
The last stop of a dayfull of history culture and religion is The House of The Virgin Mary, the place where she spent her last years. Together with the holy water spring sand the Wall of Whishes the House of Virgin Mary arouses strong emotions all the visitors.
PAMUKKALE TOUR
PAMUKKALE or the CottonCastle is a unique place and can be matched by noother site in the World. The travertines were formed thousands of years ago when a calcium rich spring cascaded over the hillside and reacted with air to form a brilliant white snowy chalkcoat. During the tour wealsovisitCleopatra'sPool, which is formed by one of Pamukkales main springsand it is simply wonderful to swim in the crystal clear water.
Standing immediately above the waterfalls of Pamukkale is the ancient city of Hierapolis famous for its necropolis (meaning city of the dead). This is one of the best preserved cemeteries in Turkey, and the largest, with over 1,200 tombs of different shapes and sizes.
PIRIENE, MILETUS & DIDYIMA TOUR
Completing the chain of the historical vestiges, Priene, Miletus and Didyma, threepearls of the ancient world are situated near Kusadasi.
One day is enough to admire the Hellenisticand Roman architecture of these three cities. The main attraction is the Temple of Apollo, one of the most sacred places of antiquity, which can still be admired in Didyma.
Yours sincerely
TRAVEL IDEAS,
TURKEY.