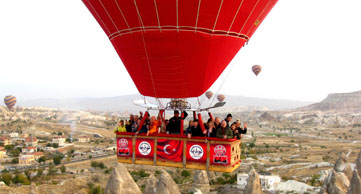 GOREME TOUR
Visit to Devrent Valley where various types of fairy chimneys are abundant. We will walk through this amazing valley. There after visit Pasabagi (Monk'sValley) with multiple stemsand caps, peculiar to this area. After visiting Pasabagi, drive to Avanos which is known for the pottery, a craft dating back to the Hittiteperiod. The redclay which is worked by local craftsmen comes from the residue in the Kizilirmakriver, the longest river of Turkey. Further to the time for lunch proceed to Goreme Open Air Museum to visit the churches, chapel sand monasteries carved into the fairy chimneys from the 10th to the 13th centuries with frescos painted on the walls. Thereafter time to take photos in the neighboring valleys.
KAYMAKLI UNDERGROUND CITY AND VALLEYS TOUR
visit to Rose Valley, one of the most beautiful trekking valleys in Cappadocia, and explore the famous rock- cut churches by hiking through the valley. Rest in Cavusin, an old Greek village, known for its Christian houses and churches. After having time for lunch visit Ortahisar Castle, similar to Uchisar Castle in style, where storage caves can also be observed. In the afternoon visit Underground City where early christians lived in fear and faith. On the way back visit to panoramic Pigeon Valley where pigeons contributed to the lives of locals with their manure to fertilize the wineyards. You may also like to taste Cappadocia wine in a local winery.
DERINKUYU UNDERGROUND CITY TOUR
Ihlara Valley, createdfrom the ashes of the volcanicMt. Hasan. After hiking through the valley, which is watered with Melendiz River by Belisirma, proceed to Selime with hollowed out citade land churches where fairy chimneys rest on the steephillside. Stop at Yaprakhisar village to take photos. In the afternoon, visit to Derinkuyu Underground Village where dwellings with stables, cellars, storage rooms, refectories, churches and wineries were used as refuges for the Christian communities.
DAILY ANKARA TOUR
On arrival to Ankara visit to the Anatolian Civilizations Museum at which there are numerous remnants from Stone Age, Neolithic Age, Hittites, Urartians, Phrygians and many others; Citadel of Ankara and the Mausoleum of Ataturk, the burial place of the national hero who founded modern Republic of Turkey.
Yours sincerely
TRAVEL IDEAS,
TURKEY.