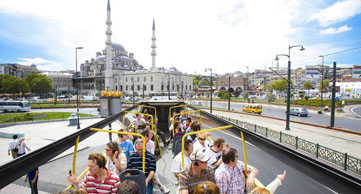 FULL DAY CLASSIC CITY TOUR
Hippodrome, center of sportive (chariotraces, athletics) event sand political activities of the old city. Obelisk of Theodosius, Serpentine Column, German Fountain of Wilhelm II are the monuments decorating Hippodrome.
Blue Mosque, facing HagiaSophia, famous with its blue Izniktilesandunique with 6 minarets, built in the name of Sultan Ahmet.
Hagia (St.) Sophia, one of the greatest marvels of architecture, constructed as a basilica in the 6th century by Emperor Just in ian. Lunch at local restaurant
Topkapi Palace, Imperial residence of Ottoman Sultans exhibiting Chineseporcelain, weapons, calligraphy section etc…
Grand Covered Bazaar,Most attractive shopping center and biggest "souk" in the world with nearly 4000 shops selling antiques, jewellery, gold, carpets, leather wareandsouvenirs.
HALF DAY BOSPHORUS TOUR
SPICE BAZAAR(EgyptianBazaar): The air here is filled with the enticingaromas of cinnamon, caraway, saffron, mint, thymeandeveryother concievable herbandspice.
BOSPHORUS ON BOAT A traditional excursion by boat along the water way seperating Europe and Asia. The shore is line dwith old wood envillas, palaces of marble, fortresses, and small fishing villages. During the excursion you will pass the magnificent Dolmabahce Palace, and further along, the parks and imperial pavillions of Yildiz Palace. On the coastaledge of this park, is Ciragan Palace, 300 meters of is marble facadefaces the shore. At Ortakoy a great variety of artists gather every Sunday to display their work along the street. Ortakoy is a symbol of tolerance with a church, a mosqueand a synagogue existing side by side for centuries.
FULL DAY BOSPHORUS TOUR
SpiceBazaar(EgyptianBazaar), mysticalsmells of different aromas of variouss pices. Shops selling fruits, vegetables, fish, flowers etc.
BosphorusCruiseon boat, through the water way separating the two continents, Europe and Asia, with a possibility to take photographs of marblepalaces, ancient wooden villas of Ottoman architecture besides modern residentials and luxurious apartments.
Rumeli Fortress(from the boat – no interior visit), historical armament built by the Conqueror to control and protect the Bosphorus. A unique example of military architecture.
Lunch at a Turkish Restaurant.
Dolmabahce Palace, recent residence for Ottoman Sultans built by two Ottomanarchitects Karabet and Nikogos Balyan on a 110.000 m2 area and served as the main administrative center of the Ottoman Empire. Famous with great collection of Europe anantiquity, furnitureand 4.5 tons chandelier, the palace has 285 roomsand 46 halls.
Bosphorus Bridge, unique chanceto step from one continent (Europe) to another (Asia) in 2 minutes.
Camlica Hill, famous for its widest bird's eye panoramic view of Istanbul from Marmara Seato the Black Sea, gives a chance to see the Bosphorus and Golden Horn from one of the best point of the high estandmostappealing places of the city.
DINNER CRUISE ON BOSPHORUS
An enchanted night cruise starts while you sip your welcome drink as the sun sets on Istanbul. Beneath the Bosphorus Bridge by moonlight, glidepast the Ciragan Palace, now adays Hotel Kempinski, Dolmabahce Palace on Europe anshores and the Be ylerbeyi Palace, Kanlica and Anatolian Fortress on Asianshores. A richvariety of open buffetdishes, specialities of Turkish Cuisine and barbeque, unlimited local drinks. The twinkling lights of the Europe an shores from Tarabya to Bebek. Transfer to hotels before goodnight Istanbul.
FULL DAY PRINCES' ISLANDS TOUR
Cruise in MARMARA SEA to PRINCES' ISLANDS, retreats for the By zantine princesare famous for their beautiful pine woods and beaches. The largest and most enjoyable of the islands is Buyukada. Thereyou can enjoy a ride in a horsed rawncarri age among the pinetreesafterrelaxing on the beaches in the numerouscoves of itscoast.
BY NIGHT
Departure from your hotel andd rive to restaurant. Dinner at a first classr estaurantwithhalf a bottle of wineor a soft drinkin cluded, watching spectacular Floor show of famous Belly Dancers, typical Anatolian Folk lore groups featuring popular musical instrument sand Turkish singer.
BURSA TOUR
Departurebyferry-boatvia Yalova, enjoying the lovely country side view. Drive to Bursa, former Ottoman Capital and lunch of famous "Kebap of Alexander The Great". Climb to Uludag, the legendary Mount Olympos, by Teleferik (Cable Car), visit to Ulucami (Grand Mosque), the Green Mosque and the Green Mausoleum, the old Silk Market in the Covered Bazaar. Lateeven ingreturnto Istanbul and transfer tohotels.
Yours sincerely
TRAVEL IDEAS,
TURKEY.